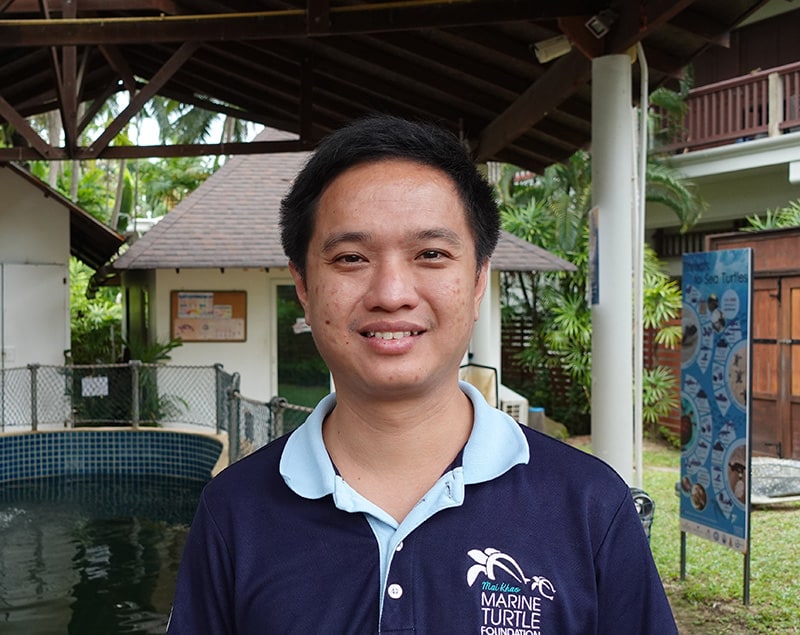 Khun Chalee is from Bangkok. Before Phuket, he's been a marine biologist in Phi Phi, and then 2 years in Maldives where he took care of multiple kinds of sea animals such as sharks, rays, and turtles. As he prefers to stay away from big city life, when manager position at Tha Mai Khao Marine Turtle Foundation was open, it was the right choice since his experience fits the job and his wife is from Krabi, so he's familiar with southern people's way of living.

 The responsibility of the foundation is to take care of the injured or handicapped turtles that cannot survive by themselves in the nature way. For example, "Biew" was born with only one left eye, no right eye, and with awry mouth, hence the name "Biew" or awry in Thai. The lack of one eye effects its ability to search for food. Therefore, it cannot survive on its own. Or "Speedy" whose tortoise shell is out of shape. It cannot dive down but keeps floating. So it's risky to be hit by boats if living in the sea.

 After one full year in Phuket, Khun Chalee is impressed by the local people that are dedicated to help turtles voluntarily while usually this kind of tasks are initiated by the government officials. The foundation currently nurtures 8 turtles. Visitors are welcome everyday except Sunday and Monday, 11:00-15:00. It's located inside JW Marriott Phuket Resort & Spa on Mai Khao beach.